Affordable, Customized Lawn, Tree and Shrub Care in South Lyon, Whitmore Lake, Northville and the Surrounding Areas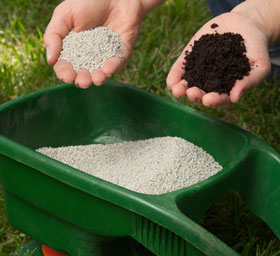 We specialize in residential and commercial turf and landscape maintenance, with an emphasis on turf fertilization, pesticide application, and core aeration.
Spring Fever Lawn Care is based on the belief that our customers' needs are of the utmost importance. After 30 years serving residents of South Lyon, MI and surrounding communities lawn care revitalization services, we feel confident that we can address your homes' yard needs. We work to eliminate the weeds and improve your yards health for a fuller, healthier looking lawn. Our entire team is committed to doing just that! As a result, a high percentage of our business is from repeat customers and referrals.
Why Choose Spring Fever Lawn Care in South Lyon, MI?
---
State Certified Agronomist on staff
Local, owner-operated business
Michigan Dept. of Agriculture Certified
Fast, free and accurate quotes
Environmentally-friendly
Fully customized treatment plans
Organic fertilizer available
Over 30 years of experience
Free Grub control for new customers.
Aeration and overseeding services
Ant, flea and tick control applications
$20 referral bonus for new customers
Our 5-Steps to a Healthy, Beautiful Lawn:
Spring:

Granular fertilizer and crabgrass preventer to get the lawn off to a good start.

Early Summer:

Granular slow release fertilizer and liquid broadleaf weed control to maintain color and control clover, dandelions, etc...

Mid-Summer:

Granular slow release fertilizer, spot treat broadleaf weeds and crabgrass as needed. Maintains color through the stressful summer months.

Early Fall:

Slow release granular fertilizer, liquid broadleaf weed control. Fall is the ideal time to control broadleaf weeds.

Late Fall:

Winterizer granular fertilizer to prepare the lawn for winter by feeding the roots.
---
Our professionals will design the best program for your lawn and landscape. You work hard for your weekends, let Spring Fever help you make the most of your summer! Contact us today for your free estimate.